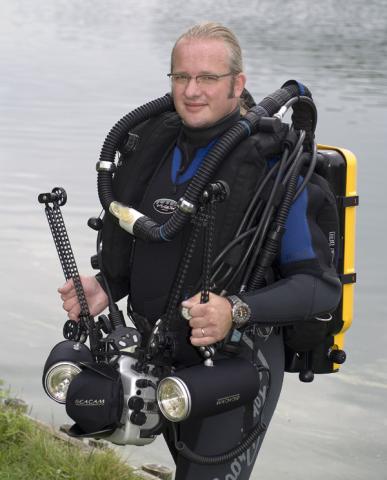 Welcome to the website of Elysia Productions. Elysia Productions consists of award winning photojournalist André Crone and text writer Eveline Crone de Brabander. Elysia Productions specializes in underwater photo productions like magazine articles or images used for advertisement purposes. Our articles and images have been published in leading magazines like Fathoms Magazine, Unterwasser and BBC Wildlife Magazine just to name a few. We also organize photography courses and workshops. These courses are based on the specialty underwater photography that we have co-produced together with the Dutch diving association. Please check our Photo courses section if you are interested.

André has a slight preference for cold water diving. Just because he believes pictures made in cold waters are more special and more bizarre. You can see this in his productions about Arctic Russia, Antarctica, Svalbard and Tasmania. But, as most photo journalists he will not hesitate to travel to the tropics to produce his articles. Andre won Celebrate the Sea in the wide angle prints category and was second in the prints portfolio category in the same contest. He has also won prices on other contests in many countries.

Our mission is to preserve nature by education. Many divers and non-divers don't know the importance of our seas very well. We hope that our images and articles contribute to a better understanding of our seas. Elysia Productions also promotes eco-tourism. We strongly believe that tourism, preservation and local development can go hand in hand if managed properly.

Our strength is that we can deliver complete articles, text and photos, in English or Dutch. Translations to other languages can be requested. Elysia Productions produces many productions under its own control. The articles that we write to accompany these photos can have many different angles to fit the need of specific magazines. André is a biologist, so we can deliver articles with a biological view. Examples of this successful strategy are our Antarctica and Indonesia productions. We currently produced images and articles in the following countries: Netherlands, Austria, Spitsbergen (North Pole), Egypt, Palau, Yap, Chuuk, Indonesia, Mexico (Cozumel and Cenotes), Mozambique, South Africa (Tiger Sharks), Philippines, Antarctica, Maldives, Malaysia (Sipadan), Saudi Arabia, Sudan, Papua New Guinea, Australia (Great Barrier Reef), Russia, the Bahames, Florida, Croatia and Tasmania.

Our extensive experience with producing underwater images has taught us how to deliver even under the most difficult circumstances. Our motto is: "We sell pictures, no excuses". This gives our customers an almost guarantee that we will complete our assignments successfully. Elysia Productions can produce custom material like background stories, travel stories, biological stories or advertisement images. We do have a very extensive stock that we have built up over the past. Many of these images can be found at our portfolio section. Please not that this section only holds a selection of many thousands of images that we available. Please contact us for more details about custom productions of the use of our stock images.

Our technology
Elysia Productions uses the latest Nikon digital cameras. We currently use Nikon D2X and D700 cameras in a Seacam Housing. This assures that the technical quality of our images follows the latest quality standards. Our images are processed on calibrated workstations to assure an accurate colour management workflow.

Elysia Productions can use rEvo rebreather technology during the dives. These give the following advantages:
No bubbles. This way we can get closer to shy animals. Another advantages is that we have no bubbles in our view when we take pictures aimed to the surface
Longer dives. Some productions take patience. The use of rebreathers makes it possible for us to make dives as long as three hours.
Deeper dives. We can safely dive deeper than the average underwater photographer. This is clearly an advantage when you are looking for a photographer that can work deeper than 50 meters in a safe and controlled way.