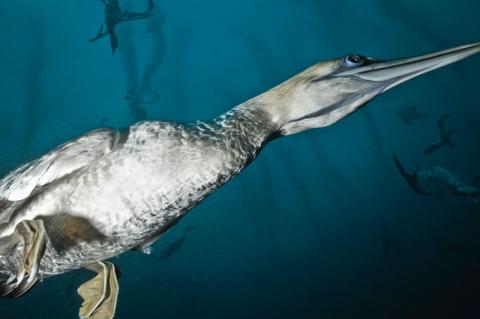 André Crone together with African Watersports will organize a photography trip to South Africa for the Sardine Run next year. This trip is planned from 5-11 July 2012. The Sardine Run is the most impressive showcase of natural predation in the world. Vast schools of Sardines are swept along the eastern coast of South Africa by an enormous body of cold water. These Sardines attract Dolphins, Humpback Whales, Brydes Whales, birds and many different kinds of sharks that all predate on the Sardines. Imagine 40 to 50 birds that enter the water per second or the sight of a Bryde Whale that scoops up a complete school of Sardines just in from of you! The surface action alone is worth the trip. Image to see this underwater too!
This trip is primarily aimed at (international) underwater photographers. We will not have a fully packed boat. Most, if not all boats, used during the Sardine Run are Zodiac type boats. We will be using a much faster and stable boat on which you can safely store your expensive underwater camera. This makes this trip ideal for photographers and videographers.
André Crone will be giving you useful photography tips and tricks during this trip. This way you will get the maximum result out of your own equipment. We will be discussing our photo's in the evenings. We will also use these sessions to optimize our images during the post productions steps with the help of Adobe Lightroom and Adobe Photoshop.
We will have our own ultra light airplane in the air that will spot the bait balls for us. There will also be a dedicated medic to make sure that any medical needs are fulfilled as soon as possible. Please not that the Sardine Run is a hit-or-miss event. We can only go out if weather permits. We do believe that our slot in July is a very good one since the Sardine Run has been a bit later in the season lately.
You can easily extend your stay in South Africa with a stay in Umkomaas or Cape Town. Flights within South Africa are cheap and can be booked online via Kulula.com. You can dive with Tiger Sharks, Oceanic Black Tips and Ragged Tooth Sharks in Umkomaas or with 7 gill Cow Sharks, Blue Sharks and Mako Sharks in Cape Town. South Africa is truly the shark capital of the world. We can bring you into contact with dive centers in South Africa that helped us to take the shark images in Umkomaas and Cape Town that you see below.
Please contact us if you are interested in joining us on this unique photography trip. We only have 4 spots available at the moment.