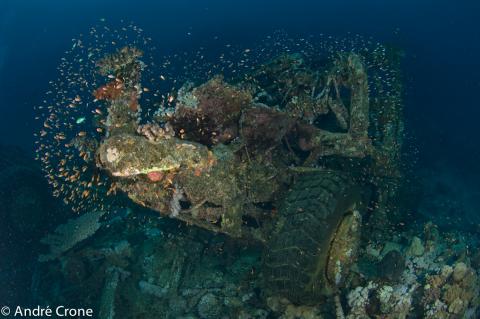 Sudan, another part of red sea.

It is not new that the Red Sea has a lot to offer for divers. Every year thousands of divers plan a trips to Egypt and enjoy a week of diving pleasure. But at the other side of the red sea there is also a lot to discover for divers. We traveled to Sudan to explore diving over here

In 1963, the Frenchman Jacques Cousteau went on an expedition to the Sudan Red Sea to study life around the corals of the Sudanese Red Sea. He also tried to find out what would be the effect if people would stay for a long under water. Cousteau built his underwater village in Sudan, where the research was conducted. At one of the dives we found a bit odd shaped object. It seemed as if some aliens has landed herein. This spherical object with four legs on the reef was used by Cousteau as a garage where he placed his dish-shaped submarine. Today you can still enter this garage. With a little imagination you can see activities of Cousteau.
Besides visiting the playground of Cousteau Sudan is also well known for its wrecks. For example the Blue belt and the Umbria are wrecks wel worth visiting. And besides this big stuff like sharks are varied by small nudibranchs and corals. In thsi way there is something to see for every diver.