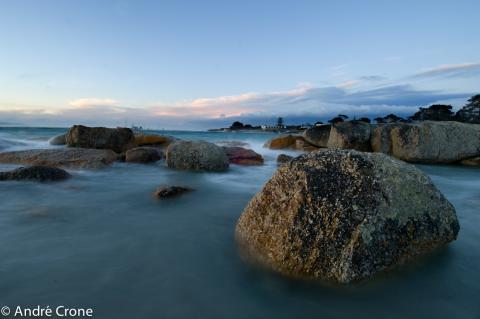 It's our first evening in the south of Tasmania and we are surprised by all kinds of animals around our bungalow. We just cannot believe how many animals we see around here. Our bungalow is not standing in the middle of in the bush. But nevertheless so many wallabies (small kangaroos) and wombats gather around our house. We have become one with nature immediately. Nature we could not have imagined being so beautiful. But besides the airport and our little bungalow we have not yet seen anything of Tasmania yet. If it already surprises us on the top site after such a short time, how will it be under water? We cannot wait till tomorrow morning when we will start diving.

Long time ago, a Dutchman called Abbel Tasman was called to go on a discovery excursion on a distant ocean. By his employer, the United East India Company, he was well known for his sublime navigation techniques. In 1642/1643 the United East India Company was in search for new Eastern sailing routes to southern America. Departing from the former city of Batavia Abel Tasman was sent away for this reason. For his trip two possible routes had been considered. The first route would take them along the North coast of Australia; the other route would take them a long way to the south of Australia. Since Abel doubted the possible passage between Australia and new-Guinea with his ship, he chose the Southern route. The planned route would take the ship almost along the coast to Antarctica.

Eventually, because of fog and storm, Abel Tasman was not able to follow the planned route. He decided to try and make his way a bit more northern than planned. During this attempt, on 24 November 1642, an unknown piece of land rose from the horizon. At first Tasman did not name the place after itself. He called the island Van Diemensland to the governor of Indie who had sent him on this discovery excursion. Later the name was modified at the request of the inhabitants of this island. A country with a special link with the Dutch people was "born".