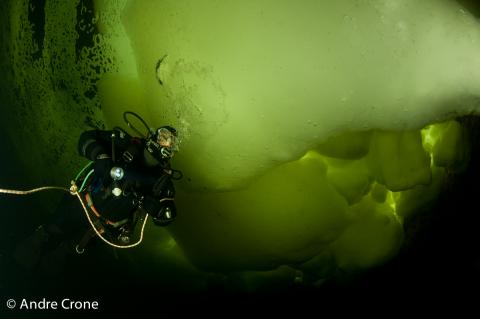 For years we have been waiting for a suitable moment to go ice diving. Unfortunately circumstances have not been ideal in the western part of Europe for a decent ice dive. To increase our chances for a beautiful ice dive we take off to the northern part of Europe. Here we will have a guaranty for ice, cold and nice people.
In March we traveled to the North of Russia. The ice diving is appealing to us for such a long time that we want a guaranty on a thick pack of ice. And it would be fantastic to get this thick pack of ice on the sea. No diving in a small sweet water lake with only little life. No, here in the North West part of Russia we really can enjoy everything. A beautiful pack of ice and also the rich under water life of the sea.
Ice diving around the polar circle will certainly be an experience. But to tell the truth the experience starts already at the beginning of our journey in Moscow. Only a three hour flight brings us from Cologne to Moscow. When we arrive in the Russian capital our Russian friend Anna, who will accompany us during our trip, waits us for. In the city of Moscow we can get around with the English language. But as soon as wee travel further to the north it will be very hard to find someone who can speak English.
The same evening we will continue our trip by train. It will take us 28 hours by train to the North. We make sure that we take enough food and drinks in the train to make it during the trip. On a number of stations along the route it is possible to by some drinks and food. You can also choose to buy some food in the dining car. But the charm of buying a smoked fish from the locals beats having a meal in the dining car.